First Comes Love, Then Comes Marriage…
But wait, it seems as though a very important step has been overlooked: the engagement party. 
Yes, perhaps the engagement party seems like a traditionally "East-coast" event, but the number of these celebrations are increasing in the Pacific Northwest, and there are a few very good reasons why.
An engagement party is your personal announcement of your love to the world in a face-to-face setting and, despite its more casual nature, there are a few aspects which are unique to this event, making it quite important.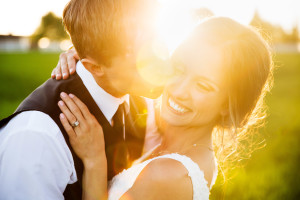 Your engagement has made your heart swell and you want to share it with the world.  And you do.  Phone calls must be made, friends must be surprised with the news, and dates and plans must be made.  But what lies between the casual entertaining of a bridal shower and the formal wedding itself, is the blend of a formal announcement of your engagement accompanied by the more casual assembling of friends and family.
Why an Engagement Party?
This event is steeped in tradition and provides the very important opportunity for families to come together and get to know more about each other in setting that is conducive to mingling, bonding, and conversation, particularly about the engaged couple.
Rather than friends and family first meeting in a quiet assembly into a wedding venue, separated by an aisle, an engagement party allows everyone the opportunity to begin building relationships long before the Big Day.  This can take a great deal of pressure off of the two people who least need more stress added to these moments in their lives: the engaged couple.
"Nichayathartham"
This long word from Tamil Nadu, India is the name of their engagement party, but it represents more than just a party.  It means "to commit" and applies to everyone attending, not just the engaged couple.  For the couple, it is the formal commitment to each other, swearing off all others, and promising to marry. For friends and particularly family, it is also their commitment to the wedding.  Essentially, this event symbolizes the joined commitment and acceptance of the couple and unification of family.
What your engagement party means or represents is, of course, always up to you.
Taking Even More Pressure Off
An engagement party will not require the extensive planning of a formal wedding, but it can nevertheless be an overwhelming event to plan, which presents another great reason for throwing one: the engagement party allows you to hire your scheduled wedding planner to host the event, giving you the opportunity to observe the level of skill and professionalism exhibited by the planners.
Did the planners deliver?  Did they create your vision?  Were they the machine behind the scenes making problems go away without your knowing at the time?  How was the food?  Did the party go smoothly?  Many questions you have about your planners can be answered, leaving you with the comforting knowledge that your wedding day is in the best hands.
Things to Know About an Engagement Party:
It is good to prepare the parents. This may be the first time some family members meet and they may feel differently about politics, religion, or any number of things. If there are topics you would like left out of the party, make your voices heard.
Informal invitations. Leave the fancy stuff for the wedding – match the level of formality with your stationary.  This is also a good time to collect or confirm contact information from your potential wedding guests.
The guest list is up to you. Most people will have a smaller number of guests for the engagement party, but this is also your decision.  Your third cousin will understand that she is invited to the wedding but not the engagement party.
White is not required. As a traditionally more casual event, a white dress is definitely not a rule.  Wear what you would like.
The engagement party is an event that you should fully enjoy, stress-free, and hiring a professional planner is a strong recommendation. They can take the headache out of scheduling the food, entertainment, staff, venue, and a myriad of other aspects while you enjoy your new beginning.  It is important, therefore, to communicate exactly what you envision in your engagement party and let the professionals take over.
Contact WE Plan It to Begin Your Engagement Party Plans
Related Reading:
Planning Zach and Tori Roloff's Celebrity Wedding, a Warm Remembrance