A Vision of Romance: You Dream it, WE Plan It
You know the feeling – panic starts to set in as you realize that a special event has arrived and you are not prepared in the least.
A Valentine's Day column in early January may seem premature, but trust us, it is exactly the right time to talk about the most romantic day of the year. As event planners, if we are only one step ahead then we are already two steps behind. This year, avoid that feeling of panic and make your plans now for a day in which to surprise your romantic partner and celebrate your love.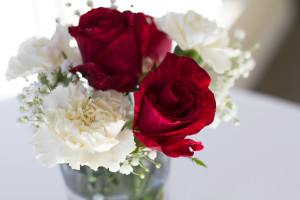 The Ideal Valentine's Day
A respected event planner can create your vision of a perfect evening with your partner, but an "ideal Valentine's Day" isn't a formula, it is a unique creation of what is perfect for you.  We often think of Hollywood's vision of romantic perfection, and some of those elements can be wonderful, but it is critical that we fulfill your vision.
          Be yourselves. You happen to know that your partner does not like champagne, feels that a hotel suite is isolating, and cannot stand to be away from Brutus, her beloved bulldog.  Good, we are getting closer to your ideal romantic evening.  A catered, favorite meal in a beautifully enhanced setting in your home, with Brutus by your side, starts to sound right.  Your partner loves stringed instruments and decadent desserts, both of which are soon to follow.
There is no "Number 3" package from a good event planner – but there is anything you can imagine.
Brainstorming Ideas
When there are so many possibilities, it is often overwhelming and perhaps some suggestions are in order.  Here is just a sampling of the possibilities that a good event planner can arrange for you on Valentine's Day:
A personal chef or a catered meal
A beautifully-created romantic setting anywhere you wish
Hotel & Travel accommodations
Live music or entertainment
A couple's massage
An evening carriage ride
A limousine ride to an event or performance in Portland or Seattle
A romantic, outdoor, afternoon picnic
A private champagne brunch
A visit to a spa
A romantic evening on a boat or yacht
Specific requests or surprises – we can both arrange them and keep a secret.
While the above includes many traditional elements, and tradition should not be underestimated, the fact is that the only limit is your imagination.
Your Story
A great place to start thinking of ideas for the ultimate Valentine's Day is to start with your story: How did you meet?  What was your first date?  People in every relationship have been in a place or situation that is not traditional in the least, but they are special between you and something you will never forget.  Dating can be full of awkwardness, anxiety, and sometimes embarrassment – and the good news is that all of that is treasured, not lamented – it is part of who you are as a couple.  Remembering those moments may help you and a professional event planner find the perfect plan catered for you.
Opportunities
It is not our job to be matchmakers and the last thing we want to do is to revive feelings of panic for you, but one of the greatest evenings of your life presents an opportunity to take the next step in a relationship.  Whether you are early in the dating stage or have been married 30 years, there is always a way to bring your relationship to another level.  Are you planning to drop the big "L" word for the first time or do you want to demonstrate your unending commitment by asking her to marry you all over again?  The perfect romantic evening is the ideal time to deliver the big news.
One request from us: when planning the next event in your relationship, remember your perfect Valentine's Day and call WE Plan It to deliver again.  You should probably put us on speed dial…
"The best thing to hold onto in life is each other" ~Audrey Hepburn
Contact WE Plan It Soon to Secure Your Valentine's Day Memory
Related Reading: