7 Big Mistakes to Avoid in the Wedding Planning Phase
This is the season to put into motion those visions of your wedding that you have only dreamed about.  In upcoming blogs entries, we will explore different facets of the wedding and wedding planning, but it is perhaps most valuable to begin with a handful of mistakes that can be made during the planning phase so that you can avoid them and focus on the I Do's rather than the Don't's of this important event.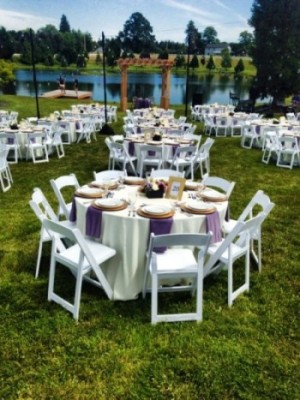 Don't let your guest list become overpopulated. In wedding planning, this is an all-too-common and costly mistake.  When you first create a guest list, go wild, but know that there will be many difficult decisions to make when you must sit down and begin to trim names.  This task is usually accompanied by feelings of guilt, but it really shouldn't.  This is your wedding and any reasonable person knows that budgets must be maintained.  Ideally, you would bring every person you have ever known, but I assure you that your 8th grade volleyball coach will understand not being invited.  Calling those left off the list is also a nice gesture, just to let them know that they are in your hearts, if not at the actual ceremony.
Don't think of your wedding planner merely as a subcontractor. Wedding planning is a complex task that require that all parties involved work together as a team during this period – almost a familial relationship, in order to accomplish everything that the couple has envisioned.  A great wedding planner knows that to plan the perfect wedding involves more than a checklist of preferences – it is about knowing and understanding who the couple is, what they like and dislike, their wants and needs, and this requires communication and a free exchange of thoughts and ideas.
Don't add links to the chain of communication. We all know that the more people a message passes through, the more changes occur: what started as "What time will the cake arrive?" can turn into "What kind of snake? Is it alive?"  For the same reasons as #2, it is important that the same designated person have direct communication with the planners.  Avoid tasking a friend or family member to pass messages as this can become confusing and create more questions than answers.
Don't avoid gift registration. Many couples think that by not having a gift registry, they will receive more gifts of cash (which is understandably needed at this point in your lives), but this is typically not the result.  Some people closest to the couple may choose to give a cash gift, but for the rest, a gift registry is an easy way for them to purchase something you will need.
Don't go crazy on impulse-buying. You just saw that item online that would be so perfect for welcome bags at your wedding, but exercise some restraint.  Even inexpensive items can be costly when multiplying them by the number of guests, and overall, impulse buying adds up very quickly, putting a substantial dent in your budget.
Don't hire vendors on a whim. Certainly, every decision is ultimately up to you, but making commitments to vendors without consulting your wedding planner can often cause regret.  If there is a person or company you insist hiring for a specific role, you will get it, but one of the huge benefits of having a professional wedding planner is that they know very trusted, quality vendors whom they have dealt with in the past, and your planner can attest to their value.  This is important inside-information that can be used to your advantage.
Don't procrastinate. A wedding planner will take the bulk of the massive weight of wedding planning off your shoulders, but there are decisions and tasks that can only be done by you.  Writing your vows and choosing music might be appealing, but writing endless thank you notes can get a bit… repetitive; therefore, it often doesn't get done on time.  It is the job of a trusted wedding planner to make sure that everything is accomplished on time, so make sure you come through on your end.
If you take one thing from this article, it should be that a wedding planner is part of your team – they will always have your back.  So remember to communicate directly with them about everything you are doing.  From guest lists to impulse buying, every aspect will affect your wedding.  They are experts and can give you the best advice possible to make sure your dream becomes a reality.
Contact WE Plan It to Begin Your Wedding Plans
Related Reading: